According to a recent survey published by international design firm Gensler, most of us can't wait to get back to the office. But Gensler confirms that workplaces need to change to support a new focus.
The survey data reveals 52% of us want a hybrid work model, coming to the office 2-3 days a week while working at home the remaining days. That compares to 29% who would prefer to be in the office fulltime and 19% who would prefer to work only at home. Gensler puts the hybrid model into perspective, saying "The role of the post-COVID-19 workplace will shift away from somewhere people simply go to work, and into a place where people meet, socialize, and work with each other."
The office "will shift to a 'convening' place for group work. The design of physical workspaces must change to support this new role, with new space types that connect us with each other and better support group work," says Gensler. "And the new workplaces must be worth the commute."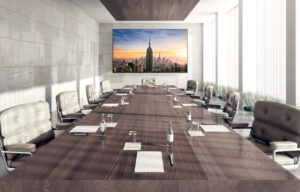 There is no question people returning to the office will demand a lot more personal space. It's anticipated many of the common high-density hot desk and cubicle layouts will be reconfigured to provide more open collaboration areas. Huddle rooms are expected to either transition to personal workspaces or be opened up to create more spacious and flexible meeting space. And many conference rooms are also expected to be combined into spaces where larger work groups can meet, present, report or collaborate safely.
There is also no question these design changes will be accompanied by new and different technology. "Larger collaboration and meeting spaces obviously need much larger displays," says Nationwide AV's Brock McGinnis CTS. "A TV that was suitable for people 12 to 15 feet away simply isn't going to work when they're 25 or 30 feet from the screen, which we're told will become common in 'next normal' workplaces. And most of the new larger displays will need to be portable, so office reconfiguration is as flexible as possible while companies learn what their own 'next normal' really looks like."
McGinnis and the Nationwide AV team believe the new generation of high resolution 130-inch LED displays will become the most popular solution. "LED display technology has come a long way in even the past two years," says McGinnis.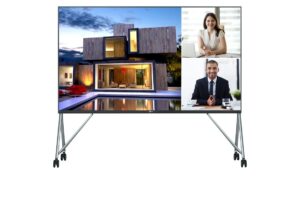 "The screens are really bright, which is needed in a typical all-windows meeting room. The contrast ratio of the higher quality products is, at 5000:1, far better than a projection screen – which makes presentations much easier to read from further away. LED screens are light enough to put on a cart that can be moved from room to room as needed and, best of all, there are no bezel lines interrupting the images like a traditional multi-screen videowall."
There are a number of vendors now offering 130-inch or similar LED displays for updated workplaces, but Nationwide AV has standardized on the LG Electronics All-In-One Premium series.
"LG is a well-known, well-trusted brand name in Canada. We already do a lot of commercial display business with them and we really admire both their quality and service," says McGinnis. "The LG 130-inch has a full HDR10 Pro colour rating, so an image on their LED screens is exactly the same colour as on their OLED or LCD TV screens. Which is what our corporate and institutional customers expect."
"Another key differentiator is that LG's All-In-One Premium doesn't require a separate set-top box or processor, which makes it far easier to manage on a cart or install absolutely flush to a wall. It plugs in and works just like a TV and was so well conceived and packaged it was awarded both Red Dot and IDEA Design Awards in 2020."
"We know there will be huge demand for additional Zoom and Teams videoconferencing capabilities when people start returning to the office. One big advantage of the LG 130-inch is that they've made it really easy for us to add and tie-in an appropriate camera and a wide-area digital microphone array. So everyone still working at home can fully participate with their team at the office, even in large spaces."
"High resolution LED displays are literally half the price they were two years ago," concludes McGinnis, "They're by far the best solution for brightness, portability and readability in large collaboration and presentation spaces and they don't require any costly construction or electrical work. And the wow factor, especially for employees accustomed to washed out PowerPoints on projection screens, is off the charts."
For more information about the LG Electronics All-In-One Premium 130-inch LED display or other best-in-class solutions, please contact us today by emailing sales@nationwideav.com or calling 905-608-8899.