The Teams vs. Zoom battle won't likely ever be 'won' or 'lost'. Like Windows vs. Mac or Cisco vs. Polycom, each of these popular software-based videoconferencing platforms has its diehard fans and equally passionate detractors. But many businesses find themselves asked to support both.
"We use Teams internally," says Nationwide AV's VP of Sales and Operations, Brock McGinnis CTS. "It's a great platform for file sharing, messaging and video. And has made us far more productive during the pandemic, while our management and staff have been working from home more often. But, like a lot of our clients, we find Zoom easier when connecting with people outside the company and for personal calls. Unfortunately, most of the AV industry's conferencing appliances for you to pick one flavour or the other."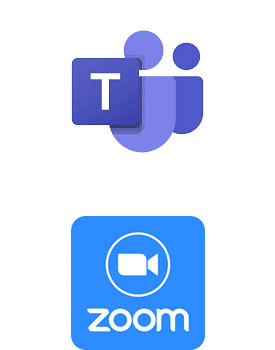 Logitech's new Rally Bar is specifically designed to address the Teams vs Zoom conundrum by natively operating as either a Zoom Room or Microsoft Teams Room with no laptop required.
"This is a real game changer for a lot of our clients," says McGinnis. "Individual meeting rooms no longer need to be designated as Teams or Zoom specific and people are free to connect however they want. Or, if they want to use another platform, like WebEx, or share content, they can simply plug their laptop into the USB connector."
The Logitech Rally Bar is an all-in-one conferencing system for medium-sized meeting rooms. It is available in graphite gray or white and sold with a two-year warranty. It provides everything that's needed for a videoconference except the display – including a camera, microphone, loudspeaker and a built-in conferencing computer.
"Nationwide AV would probably be specifying Logitech's Rally Bar for no other reason than its idiot-proof," says McGinnis. "But a lot of people already consider it the best all-in-one video bar on the market."
"The 4K camera uses something called RightSight, along with Artificial Intelligence and a second lens, to detect meeting participants and automatically frame everyone into the picture. It also automatically adjusts to the lighting in the room. We've seen autoframing capabilities like this in other products, but never anywhere close to this price point."
"Rally Bar also has a surprisingly good beamforming microphone that filters out background noise and automatically focusses in on the person who's speaking. And, if the room is a little larger or more spread out because of the extra space people will want after the pandemic, up to three additional microphone pods can be added down the table or across the room."

Logitech's Rally Bar is part of a family of new products, all with the similar features but designed to address different room sizes.  The Rally Bar Mini is intended for small spaces, the Rally Bar for mid-sized rooms and the Rally Plus offering the same functionality but a modular system for larger rooms.
All Rally Bar products work with any PC, Mac or Chromebook via USB. All offer both Teams and Zoom and can be operated by an optional Logitech's TAP one-touch connection and control surface. All can be managed with Logitech Sync, the Sync API or though partners like Crestron, Domotz and Utelogy.
For more information about the Logitech Rally Bar or other best-in-class solutions, please contact us today by emailing sales@nationwideav.com or calling 905-608-8899.